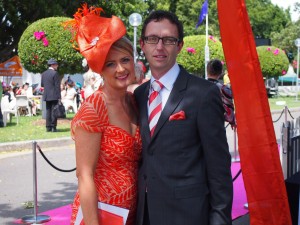 Tammy Gill Design
Special Occasion Millinery
Background:
Tammy graduated in Architecture in 1999 from the University of Technology, Sydney and has a Degree in the Bachelor of Architecture. Prior to studying architecture, Tammy graduated from the Sydney Institute of Technology, Enmore TAFE in 1993 with a Diploma of Art & Design in Interior Design.
Tammy believes that the combination of architecture and interior design are complementary skills for beautiful millinery.
Millinery history:
Tammy learnt millinery from undertaking weekend courses with Louise McDonald Milliner in 2001. Since then, Tammy has been making hats for friends and herself to wear to the races, weddings and other special occasions. In 2003, Tammy participated in the first national millinery convention in Adelaide which included masterclasses by leading milliners such as Peter Jago and Mandy Murphy.
In 2006 Tammy began studying millinery at Ultimo TAFE in Sydney, graduating from Certificate III in Millinery/Headwear in 2009 and completing her studies in Certificate IV in June 2010.
In January 2009 Tammy was a delegate to the International Millinery Forum in Wagga Wagga, NSW which included participation in masterclasses led by Jean Carol, Richard Nylon and Eugenie von Orshott.
In 2011, Tammy's entry 'Boomerang Dreaming'  in the prestigious international millinery competition run by L'Atelier-Musée du Chapeau in Lyon, France was featured in their exhibition.
Most recently, a number of Tammy's hats have been featured in the SS2012 racewear collection of legendary Australian fashion designer George Gross.
Both Tammy and her husband Brian enjoy the thrill of horse racing which also provides a wonderful opportunity to wear elegant fashion and most especially, wonderful hats!
Tammy has a collection of wooden hat blocks that can be combined to make at least 15 different hat styles with 3 different hat sizes for you to choose.
How to order your hat: Send me an email of your requirements. As all hats are custom made, the photographs provided are examples only of my work. I will then issue to you a return email with a quote where a deposit will be required to commence work.
Payment methods: A 50% deposit is required prior to commencement of any work. This can be paid by cheque, money order or EFT.
Lead time: As all hats are custom made, it takes approximately two to three weeks. The time will be confirmed when a quote is provided to you.
Costs: The cost of a hat ranges from $220 for a glamourous hat. The final cost is based on your specific requirements.